Ragging in educational institutions has been a matter of concern for everyone in the country.
Anti-ragging 3rd amendment dated 29th June, 2016 in UGC Regulations on 'Curbing the menace of Ragging in Higher Educational Institutions', the following have been added to the definition of Ragging - Any act of physical or mental abuse (including bullying and exclusion) targeted at another student (fresher or otherwise) on the ground of colour, race, religion, caste, ethnicity, gender (including transgender), sexual orientation, appearance, nationality, regional origins, linguistic identity, place of birth, place of residence or economic background.
Vidyasagar College for Women has founded an Anti-ragging Cell as per the existing UGC norms, which governs the prevention of any means of Ragging either within or outside the college. There have been no incidents of ragging at Vidyasagar College for Women till date.
All students admitted to the college and their parents are hereby informed to go through the guidelines on anti-ragging:
Click here for UGC guidelines (www.ugc.ac.in/page/ragging-related-circulars.aspx)
Anti-ragging Cell in VCFW comprises the following members:
Dr Maitrayee Basu Roy (Chemistry) – Convener

Dr. Nanda Mallick (Bengali)

Dr. Sankar Bakshi (Botany)

Dr. Somshankar Roy (History)

Dr. Anushree Chakroborty (Pol. Sc.)

Dr. Piyas Samanta (Physics)

Smt Sadhana Bose, Councilor (Member GB)

General Secretary of Students' Union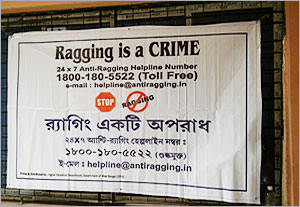 Back to Institutional Committees / Cells main